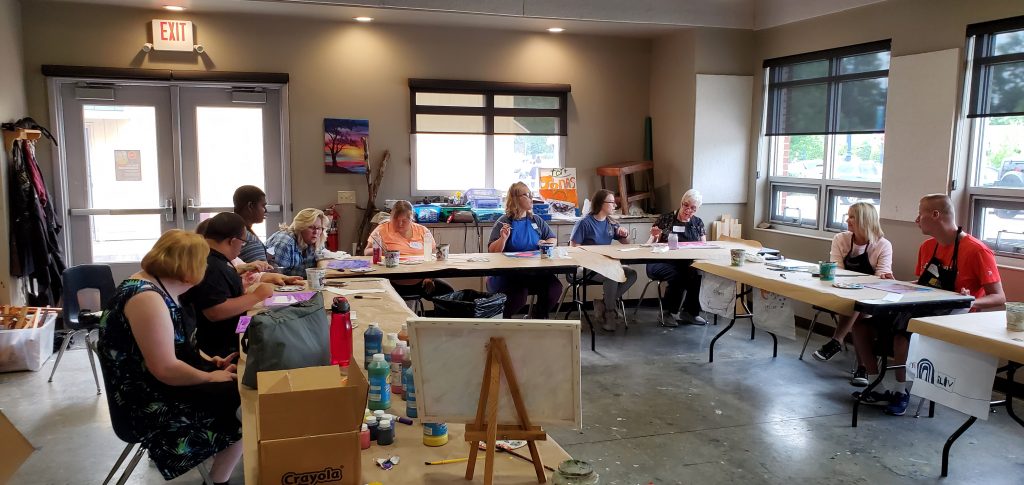 Club Create is Michigan Arts Access' program for adults with disabilities. In many cases, Club Create chapters provide the only opportunities for adults with disabilities to have hands-on experiences in a variety of art forms (creative movement, music, theatre arts, and the visual arts). Unfortunately, there are almost no social, intellectual or creative opportunities for adults with disabilities once they reach age 26 and are no longer eligible for our state's public school programs. MiAA's Club Create program has been tremendously successful in filling this need by providing a safe, inclusive social environment where members can express themselves, experience success, and feel valued and respected.
MiAA currently has Club Create chapters in our 6 affiliate regions in Michigan: Copper Country (Hancock), Genesee County (Swartz Creek), Ingham County (Lansing), Gratiot Isabella (Mount Pleasant & Alma), Marquette County (Marquette), Metro Detroit (Detroit & Lake Orion). For more information about a club near you, search under the Club Create tab on our home page.
Start a New Club in Your Area
You can impact your community by starting a Club Create chapter near you!
Starting a Club Create chapter is simpler than you might think. Michigan Arts Access has a start-up package that includes the necessary forms, guides and information you will need. We will identify the artists who will teach the sessions. And we will lead the necessary fundraising activities and handle all of the finances, including contracting and paying the bills.
Here is all you need to be willing to do:
Know of a group of adults with disabilities in your community who would benefit from a creative outlet and social interaction.
Know of an accessible public space that is available where the club can meet.
Be willing to volunteer a few hours per month to organize the sessions, communicate with the artist instructors and club members and to work together with MiAA staff to recruit members and solicit for donations.
If you would like to discuss the possibilities, contact MiAA Executive Director, Michael Gielniak at michael@miartsaccess.org.