Community of Practice Cohort

This is a new year-long program for artists in any of the visual and performing arts who would like to share their talents with special education students in Michigan.
Become one of our teaching artists.
Artists-in-Residence Program
VSA Michigan collaborates with school districts across the state to provide teaching artists who integrate dance, theater, visual arts, music, media, poetry and creative writing into the core curricula for students with disabilities.
Bring an AIR program to your district.
Professional Development
MiAA provides customized training and long-term professional development for teachers and artist who work with special education students…
Accessibility Programs
People with disabilities are a growing segment of the community. Yet, many people with disabilities are able to participate in cultural activities because of barriers to access. Michigan Arts Access offers tools and strategies…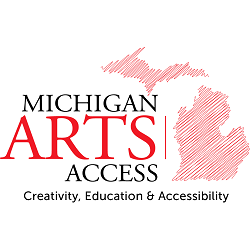 ---
The programs and services of Michigan Arts Access are provided to all, regardless of age, race, creed, gender, religion, disability, sexual orientation and ethnicity.